What's In Season? Cherry Tomatoes with our Recipe Developer Paddy
February 22, 2018
by HelloFresh
Eat
Have you caught our new video series, What's in Season, yet? If not, it's time to learn how to cook cherry tomatoes with our recipe developer Paddy.
There are lots of things to love about summer; from the long, sunny evenings to the time with friends and family and the cheeky cocktails in between. At HelloFresh though, summer chiefly means amazing fresh produce! Our recipe developers are all aflutter with possibilities as sweet corn and vibrant greens get their creative synapses sparking and their mouths watering.
One of their favourite veg that's abundant and wonderfully ripe this time of year is tomato. Blushing bright red, sweet and juicy after being ripened in the sun, there's not much you need to do with a summer tomato to make it sing. Enter Paddy's delicious summer salad with cherry tomatoes, crispy chickpeas and fresh avocado! With this recipe in your arsenal, Meatless Mondays have never looked so good.
Rainbow Power Salad with Smokey Fried Chickpeas & Lemon Yoghurt Dressing
200g sweet potato
1 bunch broccolini
2 Tbsp slivered almonds
1 tin chickpeas
1 Tbsp smoked paprika
1 punnet cherry tomatoes
1 lemon
1 tub Greek yoghurt
1 bag mixed salad leaves
Instructions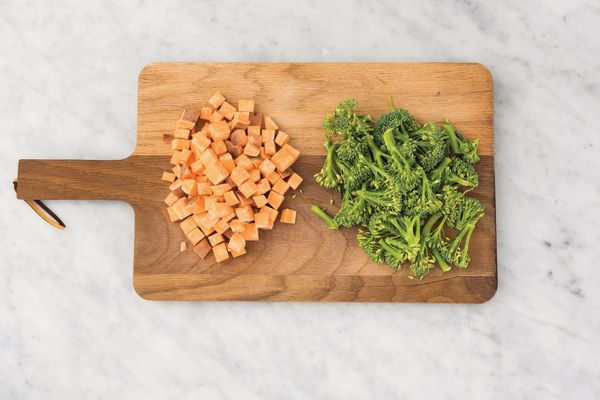 1. Chop the sweet potato (unpeeled) into 1 cm chunks. Tip: Cutting the sweet potato to the correct size ensures it cooks in the allocated time! Slice the broccolini into thirds, chopping any thicker stalks in half.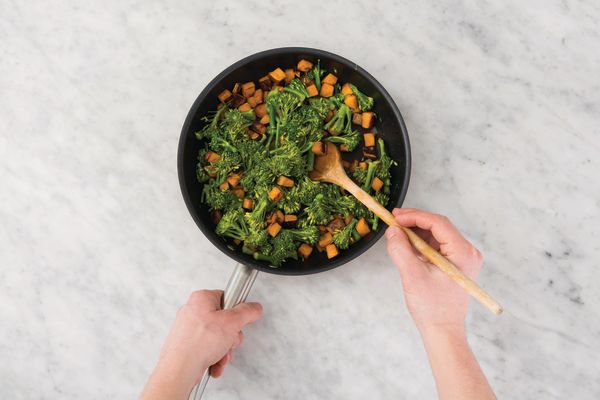 2. Heat a drizzle of olive oil in a medium frying pan over a medium-high heat. Add the sweet potato to the pan. Season with a pinch of salt and pepper and cook, tossing regularly, for 15 minutes, or until golden and tender. In the last 5-6 minutes of cooking time, add the slivered almonds and broccolini and cook until toasted and tender. Transfer to a plate and set aside.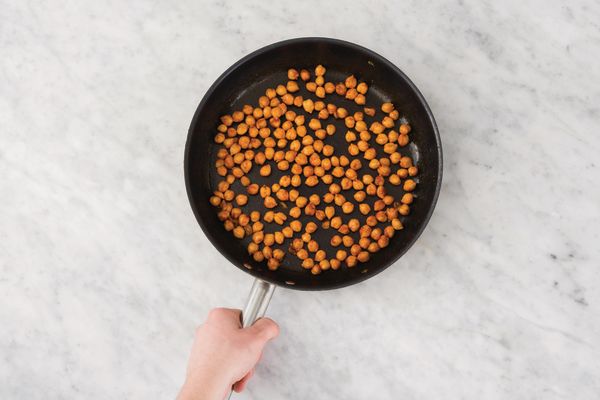 3. While the sweet potato is cooking, rinse the chickpeas. Tip: Pat the chickpeas dry with a paper towel to help them crisp up.
In a medium bowl, toss the chickpeas, smoked paprika and salt (use suggested amount). Heat enough olive oil to coat the base of a large frying pan over a medium-high heat. Add the chickpeas and cook, stirring occasionally, for 10 minutes, or until darkened and slightly crispy. Tip: If the chickpeas are popping out of the pan, partially cover the pan with a lid.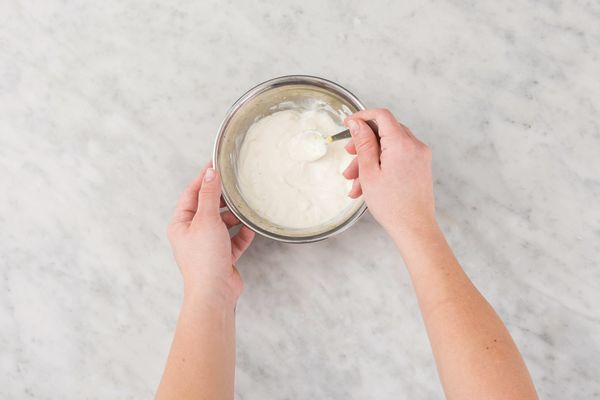 4. While the chickpeas are cooking, slice the cherry tomatoes in half. Juice the lemon. In a small bowl, mix the lemon juice, Greek yoghurt and a pinch of salt and pepper. Set aside.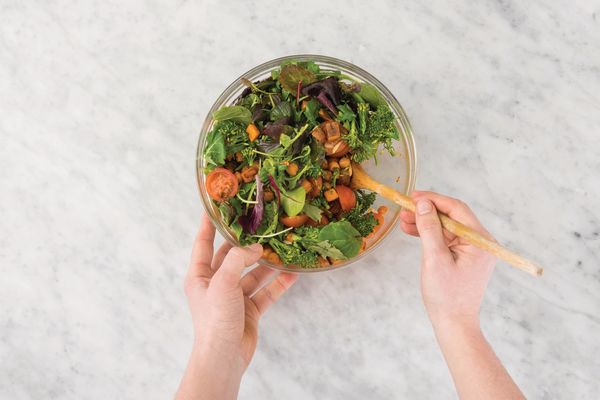 5. In a large bowl, combine the lemon juice, olive oil and a pinch of brown sugar and mix well. Add the mixed salad leaves, spiced chickpeas, sweet potato, slivered almonds, broccolini and cherry tomatoes to the bowl. Toss to coat in the dressing.
Tip: Toss the salad just before serving to prevent soggy leaves!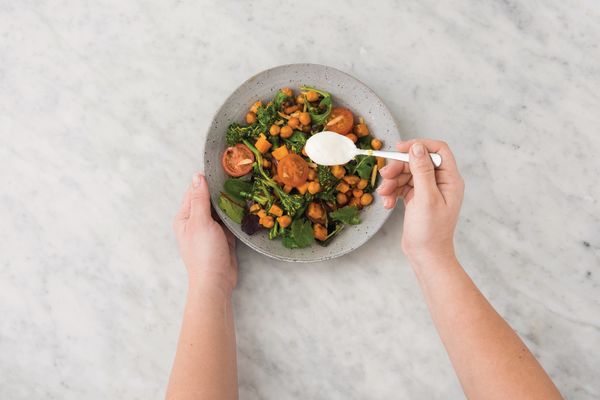 6. Divide the rainbow power salad with smoky fried chickpeas between plates and drizzle over the lemon yoghurt dressing.